Sólieri Stormbringer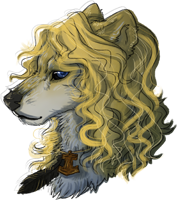 Discord Handle:
fluffymonster123
IC Information
Forum Stats
Date of Birth:
19th September 2012
Appearance:
The youngest of the Stormbringer litter, Sólieri holds simpler colouring than her brothers. The lightest of the three siblings, Sóli consists of two nicely blended colours. A blanket of Husk settles over her body, covering up most of the Quill Gray undercoat that breaks up this colour. A mask of husk settles on her face- pointed between her eyes and curling around her eyes and cheek. Her paws are dipped in varying degrees of blond- the front a touch more than the back. Sóli has inherited the typical Stormbringer eyes, though her are a darker Kashmir Blue.
Personality:
Pupppyyyy! Fearless, curious about everything, not afraid to rough and tumble with her brothers.
History:
Born to Saul Stormbringer and Lilin Soulstorm in Vinátta, alongside her older brothers Lund and Rúni.
Status:
Sólieri Stormbringer is
Offline
Last Visit:
5 July 2015, 07:35 AM
Time Spent Online:
None Registered