Fang Vukasin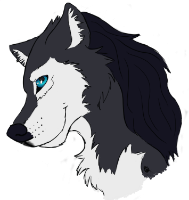 IC Information
OOC Information
Forum Stats
Date of Birth:
17th July 2013
Appearance:
Fang has a somewhat muscular build and stands at nearly seven feet tall in his optime form and tends to let his name drape down his back. In his secui form, he stands just under one hundred and eighteen centimeters tall and stands at ninetyfour centimeters tall in his lupus form. Fang's back, shoulders, upper arms, font of his legs leading up to his outer thighs as well as the front part of his inner thighs are primarily dark grey, the tip of his tail is black with the underside being white.The fur on Fang's head is the same dark grey as his back except for his mane, which is the same shade of black as the tip of his tail. His ears and face are primarily white with the center of his ears being the same as his back and a dark grey strip leads from his head to the tip of his nose. The back part of Fang's putter thighs, the underside of his forearms and elbows, front paws, rear paws and the entire back half of his legs are all white. Fang's chest is solid white with a small patch leading from it up his neck to the underside of his chin and around the tip of his nose.
http://www.furaffinity.net/view/9525833/ http://www.furaffinity.net/view/15873348/
Personality:
Fang is a very kind and caring wolf who would do whatever it takes to keep himself and those around him safe. He is often seen as a gentle soul and tends to spend most of his time alone due to his shyness and very seldom talks with anyone he meets for the first time but opens up more once he gets to know a person. He almost never fights and see no need for it unless it is absolutely necessary for him to do so. Despite his gentle nature, he can be absolutely vicious in battle and will fight to the death in the defence of others. Fang is okay with bladed weapons but prefers to fight using only his teeth and claws during battle. He doesn't usually wear any kind of clothing except for a tattered loincloth that he made from the remains of a human shirt he came across while exploring on of many abandoned human settlements. Wearing clothing does not feel natural to him even while in optime form but will do so if feels he needs to or is requested to do so. Fang uses his environment to his advantage when looking for food and other things that he would need to survive and will even dig out a den for himself if he cannot get back to the beach side cottage he calls home.
History:
Fang doesn't remember very much about his parents, his father was never around and his mother passed away due to illness when he was about a nine months old and the last time he seen his father is when he returned to bury her before disapearing from fang's life altogether. Since neither of his parents belonged to a pack and there was no-one else around to take care of him, Fang had to learn to survive on his own which was very difficult for him since he was never been properly taught how to hunt by himself and would sometimes go without eating anything. He lived much of his young life in the Miramichi Valley, using the abandoned buildings in one of the remaining human villages for shelter. Fang spent about a year of his life there, and would seek higher ground during the spring and would return after the flooding subside. Tired of having to move to higher ground, Fang now calls a beach cottage on the western shores of Grand Lake his home, and sometimes travels to other parts of the lake and does his best to stay out of th pack territories and avoid any unwanted conflicts.
Location:
Murfreesboro, TN, USA
Birthday:
23 July 1990 (30 years old)
About:
Gamer, anime addict.
Last Visit:
4 April 2016, 01:12 PM
Time Spent Online:
None Registered