Your characters' precise species and species percentages: 53.125% Northeastern Coyote, 33.75% Plains Coyote, 3.75% Eastern Timber Wolf, 3.125% Great Plains Wolf, 3.125% Mackenzie Valley Wolf, 1.5625% Dog, 1.5625% Red Wolf
Your desired Auxilia tier: Whatever
Your desired Immunes rank(s), Whatever
[html]
I've come to burn your kingdom down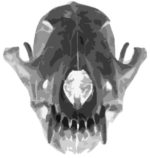 Nephilim loved and worshiped his brother and he would do anything at all that Messiah told him to do. He followed his older sibling faithfully. He didn't even spare a second thought as to whether or not he should do what was instructed of him. Messiah's words was law. And it was because of that that he had left behind the rest of their family in order to find this great clan of the fiercest warriors that he had been told to seek out. Or well, it was the two of them that were seeking it out. Their parents had spoken fondly of the place when they were around and Messiah had passed on the stories to Nephilim. It was like some sort of paradise, some sort of Heaven, that they were seeking out. It was the Promised Land that they sought out.

They had wandered hither and thither, Nephilim following after his eldest sibling with ease. Nephilim only knew the name of the place they were heading but little more than that. He trusted in his brother to take him to exactly where they needed to be. He figured that Messish knew exactly where they were going and so he felt no sort of unease in taking his sibling's direction.

The mangled looking male walked about on his fingers and toes, creeping along the ground that he was currently sniffing at. Expiation had taken place and the male with the fractured mind was set on seeking it out. He considered all bloodshed to end up being expiation, it was the only way he knew to explain it.

The male whined deep in his throat and glanced to his sibling. He knew they were close but he was having trouble pinpointing just where the scent was coming from. There wasn't a body that he could spot in the distance but he was fairly certain that was the direction that the scent of days old blood was coming from.

Nephy scuttled a few paces forward before stopping and scenting the area again. He closed his eyes as he inhaled deeply, getting his bearings and picking out which way to go. His eyes were lying to him, or so he believed. It was because of this that he kept his eyes closed as he moved ahead and just followed his nose.

After a bit more scuttling about Nephilim ended up running face first into a stake. He yelped at the contact and quickly scrabbled his way backwards as he opened his eyes wide to take in what had assaulted him. Yes, he thought he had been assaulted rather than him having just simply walked into something. The male tilted his head and stared at the piece of wood for a long moment, seeming to wait for it to spring into action once again.

When the post didn't move the mauled male crept slowly forward once again. He sniffed at the offending object and realized that this was where the scent he had been tracking was coming from. His tail wagged excitedly as he realized he had found what he was after. He didn't realize it was Inferni but rather it was the metallic scent he had been tracking since he had first scented it.

He gaze slowly rose up the post to see a blood caked skull grinning down at him. Nephilim reached up feebly and batted at the skull to try and knock it off the pillar. He didn't seem to understand the proper use of hands and fingers. He refused to grasp things but sought to knock things over as if it was only a paw he possessed. Actually most of his movements were reminiscence of if he was in his Lupus form rather than his Optime one. Once he had the skull knocked to the ground he pulled it close to himself with the side of his hand. He laid upon the ground, settled on his knees and forearms with the skull settled between his hands that were flat on the ground.

The male growled as he set about cleaning the blood off the skull. He licked and gnawed on it as any canine would do with a bone. For now his quest was complete. He had found the blood and now he was sate on sating the hunger that had spurned on the hunt.


Please allow for Messiah to post next.
<style type="text/css">
@import url("http://www.ghostecho.net/souls/pack/if.css");
</style>
[/html]
[html]<div class="nephy-raze-sig">

<span class="name">Nephilim de le Poer</span>
<br/>
<span class="quote">Behold the wretched Nephilim, cast down<br/>
Upon the eighth day from infinite height, <br/>
Shorn of arched wings, of iridescent crown, <br/>
Of even (sole grace) memory of flight</span></span>
</div>

<style>
.nephy-raze-sig { text-align:center; font-family:IM Fell DW Pica, serif; line-height:20px; background-image:url('http://i.imgur.com/V5rCgxI.png'); background-repeat:no-repeat; background-position:top center; padding-top:45px; }
.nephy-raze-sig .name { font-size:35px; text-shadow:#555 1px 1px 2px; letter-spacing:2px;}
.nephy-raze-sig .quote { font-size:16px; text-transform:lowercase; line-height:14px; }
</style>

<link href='http://fonts.googleapis.com/css?family=IM+Fell+DW+Pica' rel='stylesheet' type='text/css'>[/html]