Salsola June Newspost
➤ Long Days and Pleasant Nights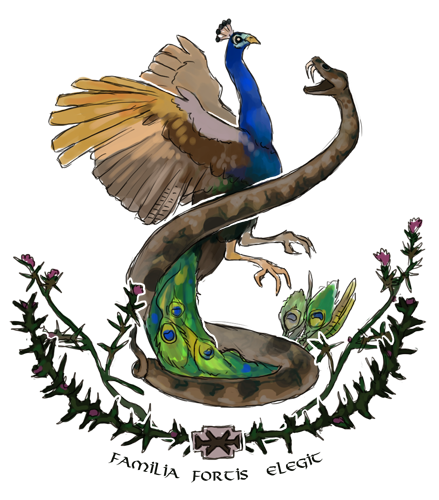 Year IV in the rule of Boss Elphaba Revlis; Early Summer in the Thistle Kingdom
Spring settles into warmer days, and with it the arrival of new life. The pastures of Salsola see young animals starting to find their wobbly legs, while easy prey now awaits Salsola's skilled hunters. Rainfall and thunderstorms occur more frequently, but so too do hot, humid days. After a loud celebration the previous month, Salsolans return to their everyday routines.
The ship of neighboring pack Casa di Cavalieri, hosting many Luperci from near and far, can be seen sailing often these days, and Salsola's own
cutter, the

Silver Wind
cruises (or, perhaps, patrols) the waters nearest the Thistle Kingdom's territory. Salsolans are advised to keep an eye out for travelers near the borders, and urged to ensure any lost Outsiders remain away from the pack.
With one of the primary guards away on a private matter, and the presence of Outsiders increased,
Lace Valentine
has requested additional aid at the
Queensgate Garrison
. Information has been left on the pack's notice board.
Mostly, though, Salsola remains unchanged. Flowers begin to bloom in earnest, and insects and birds multiply as if by magic. The arrival of summer feels close at hand.
➤ Birthday Wrap Up
ICly, Governor Blair has long-since returned to her rightful station in our Portland location, and Salsola has fallen back into regular routine once more. Memories of the festival week and the bonds made and moments shared will not soon be forgotten, and, who knows! Perhaps there are some things that will become tradition in the future to come!
OOCly; wooo! Celebrating Salsola's 10th Birthday was a blast! We hope everyone enjoyed the fun, festivities, and prizes as much as we did! We want to thank each and every one of you all for participating, and we're super happy with the turn out for the OOC prizes! You all did fantastic!
Congratulations to our OOC Prize Winners!
Event Icon:

O'Riley Eternity

Kamari Kaiser

Krios Revlis

Grievous Eternity

Aani Aston-D'Noires

Evelyn de le Ulrich

Azalea Eternity

Hades Ars Paulina

Monet Firestone

Amos Gaines




3-month Temporary Titles:

(A)

F

a

m

i

l

i

a

F

o

r

t

i

s

E

l

e

g

i

t

OR

(B)

e

e

e

i

u

e

e

e

i

u

!

Elphaba Revlis

- Abstained

O'Riley Eternity


Brocade Valentine

- Option A


Kamari Kaiser

- Abstained

Krios Revlis

Grievous Eternity


Aani Aston-D'Noires

- Option B


Evelyn de le Ulrich

- Option A


Azalea Eternity

- Option A


Hades Ars Paulina

- Option A


Monet Firestone

- Option B


Odalis

- Option A

Amos Gaines



Winners!

— Please reply to this thread with your choice of temporary title! You can only choose one (1)! Of course, you are also able to "abstain" if you would prefer neither! You have until

June 30th

to claim your prize!




Art Raffle:

- See our newest announcement!
➤ The Olympic Games
Due to the absence of an overall group interest, Salsola will
not
be making an appearance at Casa di Cavalieri's
'Souls Olympic Games
this year. We wish the best for the participants of other packs, and we will be watching the Games with abated breath for what fun might come of them!
➤ Wiki Updates
Help us get the Wiki pages up to date by ensuring your character's information is correct! Coding can be hard, but we are here to help. If you aren't comfortable editing the pages directly, fill out the information below and we'll make sure it's updated for you!
Directory:
Code:
[list][*] [b]Name:[/b]
[*] [b]Sex / Pronouns:[/b]
[*] [b]DOB:[/b] DD Mon YYYY
[*] [b]Species:[/b]
[*] [b]Interests:[/b]
[*] [b]Trading:[/b]
[*] [b]Training:[/b]
[*] [b]Skills:[/b]
[list][*] Skill (level)
[*] Skill (level)[/list][/list]
Residency:
Code:
[list][*] [b]Name:[/b]
[*] [b]Residence #:[/b]
[*] [b]Occupant(s):[/b] (Luperci ONLY)
[*] [b]Free Roaming Pets:[/b]
[*] [b]Stabled Pets:[/b]
[*] [b]Brief Description of Residence:[/b][/list]
Animal Companion:
Code:
[list][*] [b]Name:[/b]
[*] [b]Owner's Name:[/b]
[*] [b]Sex:[/b]
[*] [b]DOB:[/b] Month YYYY
[*] [b]Abilities:[/b] Are they specifically trained or good at something?
[*] [b]Personality:[/b]
[*] [b]Description:[/b] What do they look like?
[*] [b]Notes:[/b] Anything special to note? Ex. Pregnant, extremely territorial, NPC page, etc.[/list]

Much love and Happy Posting - Team Salsola