4 December 2021, 09:25 PM
Salsola December Newspost
➤ Merry and Bright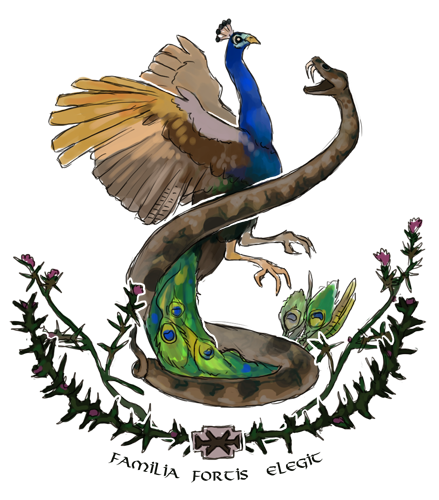 Year IV in the rule of Boss Elphaba Revlis; Early Winter in the Thistle Kingdom
In the wake of the Autumnal Last Supper, the days grow ever shorter, and the nights, ever longer. The land gradually slips further into dormancy — the deciduous trees shed the last of their colorful leaves and various creatures find places to hibernate, waiting out the lean, bitter season to come, slumbering deeply until the arrival of spring. With every pass of the sun, the world feels a bit colder until the autumn rains become sleet, and, eventually, snow. In a blanket of white, Winter arrives in Salsola.

Cold-weather garments and comforts are brought out from storage. Firewood is cut and stacked for ease of use. Warm meals and conversations are welcomed and appreciated, and those shared with friends and family, even more. Hunters are rewarded with thick, luxurious furs and handsome antler racks, and those that take to Lupus or Secui enjoy the feel of fresh, icy lungfuls as they race headlong after prey. Playful mischief and fun can be found in various forms; from chilly pranks, to snowmen, to (dirty) snowball fights.

And, it is as the Kingdom embraces the new season that there is an almost festive air to be felt. After all, the arrival of the first snow heralds the start of the customary practice of gift-giving; Saturnalia!

The start of winter brings forth the reminder of another notion too; New Caledonia's Call to Court. An annual event since its conception, the Sun-and-Moon Kingdom to the North has extended an invitation to its southern neighbors twice now, and there is an assumed expectation that this year will mark the third. With growing interactions between the two Kingdoms, those that look to make a name for themselves — or hope to be chosen amongst those named to attend the far-off, foreign event — begin to make preparations for goods and other items to trade or gift the Caledonians. Rumor has it, they have a wonderful play, and their dyes and services are quite exquisite!


➤ Saturnalia
The fall of the first snow marks the official start of the winter season, as well as the beginning of Salsola's annual
Saturnalia
tradition!
The cultural event begins with the tradition of
gift-giving
...
anonymously
. These gifts can range widely, from something rather simple, to something quite useful, to something overly luxurious. It's all up to the sender! Gifts can be given in a multitude of ways, though, whichever method the deliverer chooses, the intent is to remain anonymous all the same. This part of the event is often tied to our
Salsolan Secret Santa
, however, you are of course welcome to have your own threads unrelated to the sign-ups too.
Under the full moon of
December 29th
, Saturnalia Eve will be held, with the Banquet to follow on
December 30th
. Keep your eyes peeled for these threads, and be sure to check our Discord channel for voting for this year's prestigious
Lord of Discord
!
Remember! If you have a thread related to Saturnalia (
e.g. gift-giving, participating in the Saturnalia Eve sacrifice, attending the Banquet
), you can earn the Freshwater Trout Anicomb!

➤The Yuletide Yak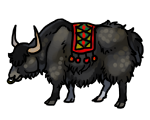 The morning before Saturnalia Eve, bells jingle down the snow-covered streets of the Ruins and Millstone Village. As Salsolans look out their windows and peek out their doors, they see a sleigh. It is decorated with garlands and brightly colored ribbons, and is padded with thick furs. It goes at a lazy gait, pulled by
Bojangles
, who is equally as
decorated
; with brightly colored fabrics, tassels, bells, and looping accessories capped onto his horns.
Blanche
leads the yak while wearing a wide smile, for, in the sleigh Bojangles pulls, there is a mound of packaged gifts; one for
every
Salsolan!
While some may be anonymous — either part of the yearly gift-giving or unassociated with it — others have written senders, but, the one thing they have in common: They were delivered by the yuletide yak!
Players,
feel free to make use of this new gift-delivering service this year for your Saturnalia-related threads or OOC assumptions! Bambinos should expect some extra little surprises; from tasty treats made by Blanche to simple, wooden crafts made by
Flint
! ;)
➤ Sign-ups: Salsolan Secret Santa
Tied into our annual
Saturnalia
event and in honor the passage of another successful year, Salsola will be continuing a proper tradition — the yuletide gift exchange! Much like the board-wide exchange generally run this time of year, members sign up to give and receive gifts — Very unlike the board-wide exchange, however, the gifts will be
In-Character
rather than graphical.
As Luperci have no idea who the heck Santa is, the coven and those likewise associated are more likely to use the old archaic term
yuletide
IC to describe this event and this festive time of generosity and cheer!
» How Does it Work?


Salsolan members sign up for this event by filling out the form below. When sign-ups end, the leadership pairs each participant anonymously with an unknowing gift-ee. Participants should then post their gift and IC delivery proposal in the drop-off topic!



» Rules
You're required to reciprocate: you'll be receiving a gift, so you should be providing a gift.

You do not need to engage in an actual played-out thread for this exchange. It's primarily for fun and to encourage closeness/interaction/fun between Salsola members! You are welcome to keep your participation in the contest as OOC planning if you wish. It's up to you and your partners (person you are giving a gift to, and person you are receiving a gift from) to decide.

Please make sure your gift suggestions and your actual gift are reasonable and realistic. It is not very realistic or reasonable to request a trained Asian elephant, for example. c;

When delivering your gift, please reply to the drop-off thread with a description. Try to be comprehensive when describing the item.

You must include at least: a pixel icon

OR

a non-copyrighted photo reference

OR

a drawn image of your gift

AND/OR

a 100 word description! See the 'Souls Graphic Resources Wiki Page for places you can obtain non-copyrighted images. If you have any questions about whether your image or description are acceptable, please contact SL Leadership.

» Timeframe
December 9th:

Sign-ups end


December 10th:

Assignments given via PM!


December 11th:

Drop-off thread will be created, and a link will be added to this post. IC threads must be started between this date and

Dec 31st

, if you plan to aim for the bonus 10 points!

» Form


Please reply to this thread with the filled out form if you intend to participate!


Code:

[b]Character Name:[/b]
[b]Gift Preferences:[/b] (List up to 3 items your character would truly appreciate as a gift -- try to be specific and descriptive so your partners have an easy time!)
[b]What is your character good at obtaining?:[/b]
[b]Are you planning to aim for the bonus IC thread/s?:[/b] (Yes or No; Once or Twice)
➤ Year-End Wrap Up
Can you believe that 2021 is almost over?? We can't either! However, that means it's time for everyone's favorite
Yearbook
to make it's return! Submit your characters to ensure the full roster of Salsola is represented!
On that note, don't forget to
fill out the 'Souls 2021 character census
! Having this information will better reflect the in-game demographics of the region and its populous.

Much love and Happy Posting - Team Salsola