Salsola May Newspost
➤ Around the Maypole Once Again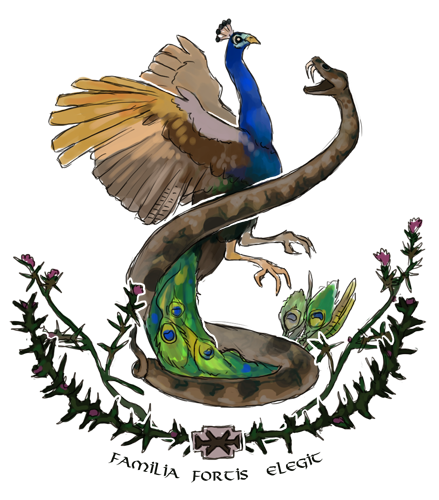 Year V in the rule of Boss Elphaba Revlis; Late Spring in the Thistle Kingdom
Early spring gives way to warm temperatures and a wash of green, as even the latest trees now boast full and verdant boughs. Fragrgant wildflowers bloom en masse, and the rolling hills and glens hum with the buzzing of bees. Within Salsola proper, the Luperci who make up the pack are busy preparing for oncoming celebrations. For many, the approach of a welcome summer is reason enough to commemorate. Traders and craftspeople alike can look forward to better weather for travel beyond the thistle borders, and more raw materials to be found in abundance in the land all around them.
There is a strange suspension to the air that heralds a new beginning. For a few, it is an inexplicably welcomed feeling. After months of evasion, the terror that was known as Pentiti Aani Aston-D'Noires was captured and
(M) put on trial
, and summarily executed for her many foul crimes against the denizens of Salsola. In the aftermath of this event, curious facts became public knowledge, however, there was one in particular that became abundantly and violently clear: the Thistle Kingdom will not tolerate evils done against
la Familia
. While the pack was left to ponder these revelations and begin to recover from the injustices wrought upon them, Erilaz O'Riley Eternity traveled to the north, where he
(M) collected a bounty
from the suspicious coyotes of the Del Cenere Gang.
Two
familiar
faces
have now arrived in Salsola, and their purpose has made clear that the events to come are of great importance indeed...
➤ Happy 11th Birthday, Salsola!
Eleven years ago, a small but determined group set out from the mountainous caves to the east and founded the infamous Thistle Kingdom. Over time, Salsola has grown exponentially in size and reputation – its territory has expanded from the original section around the Ruins to reach far to the north, and its roots have driven deep into the dark loamy earth in search of what wicked secrets remain buried there. While our numbers often fluctuate with the constant coming-and-goings of
la Familia
, time has proven that the formidable people who make up 'Souls oldest running pack are enduring fixtures in the Isthmus of Chignecto.
Make sure you reply to this post with some form of
"HAPPY BIRTHDAY!"
if you want to claim your annual Birthday
50 Game points
!
➤ A Royal Wedding of Thistle & Thorn
It is long-standing tradition in Salsola proper to celebrate the turn of each season with a
Last Supper
. For many denizens of the Thistle Kingdom, this is a familiar and welcome event, an opportunity in which to flex their own budding wealth and mirror it against the providence of their neighbors'.
But this Spring, the Supper aligns with two other occasions of great import. The stars have aligned thus: A great feast will be held, to celebrate the Thistle Kingdom's eleventh year in the month of its foundation; And to laud the joining of two
royal houses
,
Eternity
and
Revlis
, per the marriage vows of the Boss and the Erilaz!
As announced at the
prior Saturnalia Banquet
, Witch Queen Elphaba Revlis decreed herself betrothed to her right hand man, O'Riley Eternity. While the announcement was surprising to some, to others it seemed long overdue - the Thistle Kingdom is lacking in royal heirs, an absence which begins to threaten the political stability of the Mafiosi's rule. Without continuity, how can our rigid heirarchy remain firm? Salsola is known for the hungry ambition of many of its denizens — who knows what scheming might unfold if the lineage progression of the crown remains in question...
Important information on the upcoming feast and celebrations:
The entirety of the pack is invited to attend the

Royal Wedding Reception

, a feast in the Feasting Hall that will be held on

May 21st at Dusk

. The wedding ceremony itself will be a private affair that takes place just prior to the reception, but feel free to gossip and speculate about it to your heart's content ;)

Word of the event has been spread via the usual channels of information in Salsola: word of mouth gossip, a formal notice pinned to the notice board, and a direct decree given to all willing hunters and gatherers to begin compiling the necessary food and resources. You can assume your Salsolan was informed in whichever way suits you best!

Hunters, gatherers, herders, crafters, traders, entertainers — no matter your proclivities, there is always something you can contribute to the celebrations! Consider what you might bring or provide to add value to the event, and to increase your reputation among your peers.

It is customary to provide a newly-wedded couple with gifts, although not mandatory. A clever or meaningful gift might earn you favor with Salsola's Mafiosi, on a day when their goodwill is more likely to be bestowed. Perhaps, you are even daring enough to use it as an opportunity to ask for a boon...

Curious about Salsola's cultural norms around mateship and marriage? Check out the wedding section of our wiki!

Are you an Anicomb collector? This thread will get you 1/5th the way through to earning the Silver Fox Anicomb!

Once the Reception Supper Thread is live, we will put the link to it HERE!
» Event-Themed Thread Prompts!
If you want some event-related thread prompts, here are a few that you can take advantage of! Like our regular monthly Thread Prompts, completion of one of these prompts can earn you

10 Game Points

!
Salsola's pNPCs will be busy preparing for the events and could use some extra help! Have a thread where one or more of our pack NPCs is prominently featured. Some ideas include: hunting or preparing food, commissioning a special garment or item, or assisting these characters with their regular duties.


Mateship is extremely important in Salsolan culture, and with its leaders now united, the pressure is on for all eligible singles. Did you know that taking on a mate has benefits beyond general social standing? Characters who marry earn an extra boost in the ranks! While marriages for love are certainly wonderful, ambitious and like-minded individuals may choose to unite in order to climb the hierarchical ladder or establish new Houses. Have your character explore their thoughts on the matter.


Party on, Wayne! Things might get a little rowdy once the drinks (and other substances) start flowing at the wedding reception. Tear up the dance floor, perform your own rousing song, or engage in a group game.


Celebrations often bring out the best in people, but they can also dredge some unpleasant feelings to the surface. Have your character face and overcome a low moment in the days leading up to, during, or following the wedding reception, either alone or with someone else. Remember, while

la Familia

is all about unity, that doesn't mean everyone is necessarily so altruistic...


Prepare for the wedding reception! Test out your outfit before the big day to make sure everything is perfect, have someone help you if you need to make some last-minute adjustments, or, maybe take the day to make sure your clothing/accessories/armor pieces are cleaned to perfection!


Engage in some juicy gossip — is it about a romantic interest or curious (or terrible) match-up? A suspicious activity? A funny but embarrassing moment? Alternatively, maybe the rumor is about you and you need to set the record straight!


There have been quite a few shipments coming in through the Marketplace in preparation for the big day. Help inspect the cargo, crates, barrels, bags, etc. for anything suspicious, and to make sure Salsola is getting everything that was listed in the trade agreement. If something isn't right, make it so! Or, alert a guard if things get out of hand (and you can't handle it yourself)!


Help decorate the Feasting Hall and portions of the Ruins! Help craft additional House banners or decorative garlands with flags in Salsola's colors! Help weave or create decorative flower arrangements to be placed around/outside the hall or on the feasting table.


Hunt, trade for, create, or help make some delicious foodstuffs for the wedding reception! Alternatively, have a conversation as you dine on this over-the-top, extravagant meal! Or, maybe stash away some of that tasty food or drink to take home as you leave...


Where do you find yourself in the aftermath of the wedding reception? Did you eat/drink/party too much and are now suffering the consequences? Do you find yourself engaged in a secret rendezvous? Waking up somewhere without any idea of how you got there? (Unwittingly) employed in cleaning up some sort of mess?


Uh oh! Rescue a fellow Salsolan before they can embarrass/make a fool of themselves, help a packmate preserve their dignity if they've indulged a little too much, or, perhaps stop an altercation before it can ruin the Mafiosi's wedding!

➤ Prizes
What's a birthday without
presents
?! Or, rather,
prizes
?! By just being active on your Salsolan(s) this month, you could stand a chance at winning some cool things; from "expensive" or exotic IC prizes, to even art made by one of your Leaders! Interested? See how you can participate in our
birthday raffle
to have a chance at winning one of these!
IC Prizes:




Limited Edition Icon:

(Created by Alaine!)




Custom Art:
» Participate in our Prize Raffle here! «

Much love and Happy Posting - Team Salsola