WARNING: Picture heavy thread! :)
Alright, so it's been a little bit since we've had a thread like this and I know we've got a few new members here now too so I thought putting up another "flaunt your cute pets" thread would be appropriate, lol. Come on everyone, let's fill this thread with D'aaaaaw's and cuddly cuteness! :D Share pics of your furry, scaly, feathered etc. children! XD Sorry for the cruddy quality of some of my pics and the length of this thread. o_o
Westy's (Current) Kitties:
Zosimos:
This is my orange menace Zosimos (AKA: Zos, Zopers, Grossimos, Butthole). He's cute, but he's also a pain in the ass, lol. He thinks he's a dog. He chews on EVERYTHING. His favorite chew toy would be his daddy (Mack)'s hair. How sweet. ;P Zos also likes to spazz out at 3 in the morning but is generally a very social kitty. :)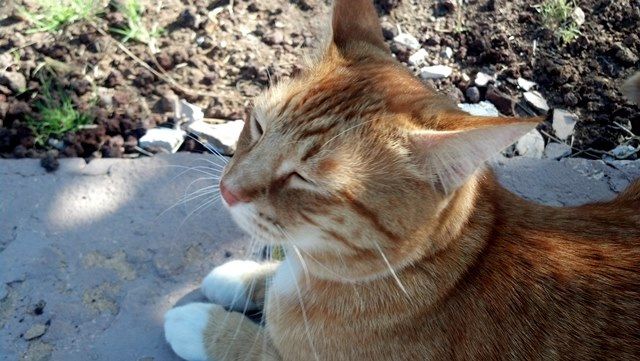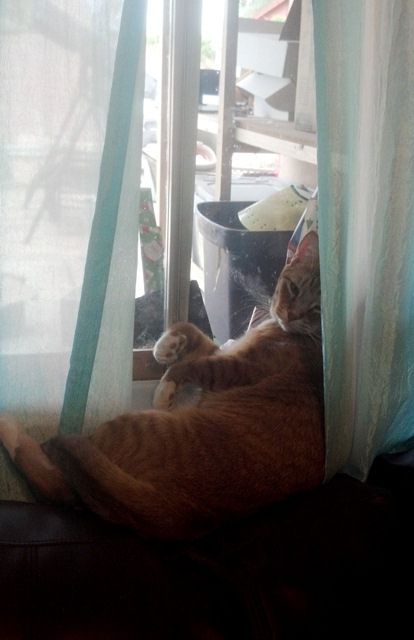 Raven:
This is my "special" panther kitty Raven (AKA: Ray-Ray). He likes to be outside a lot and tends to get into scraps often which costs momma and daddy quite a bit of money. <_< He is my "problem child" lol. He won't eat unless you stand there and watch him and he seems to have memory problems (he is eating, then walks away and meanders about the room, starts meowing at me to be fed, I point out the food he was JUST eating and he goes over to it again like he completely forgot what he was doing). As you can see he also has some silly sleeping habits, lol. He's my baby. <3 I need to get more pics of him...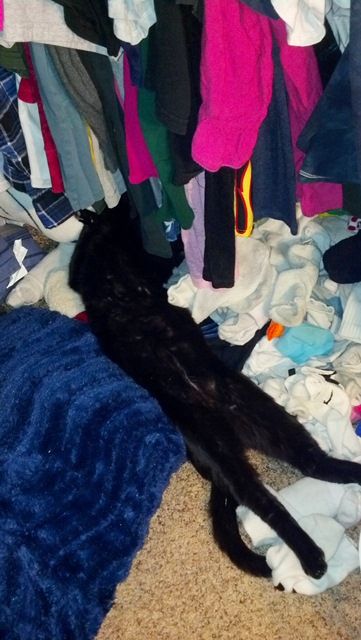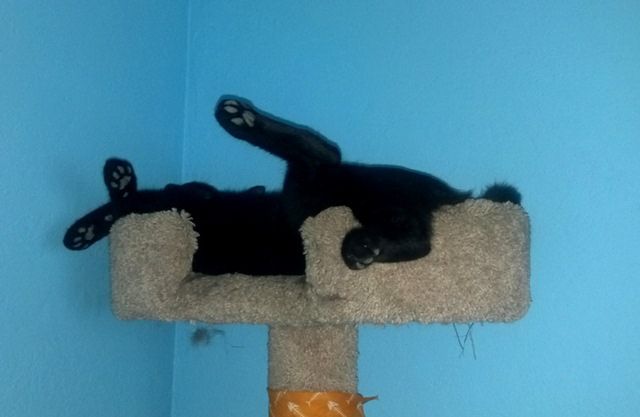 Westy's Kitties (Currently At Parent's Place):
Lynx:
Lynx (AKA: Fuzzbutt, Lee Lee) is the most unique cat I've ever had. He is a Manx (has no tail) and very VERY talkative. His voice is tiny and cute but he's known to "yell" at you if you're not paying him enough attention. He is extremely intelligent as well, which is a typical Manx trait. He may look kinda big in size, but really he's a very small kitty underneath all his fluff. <3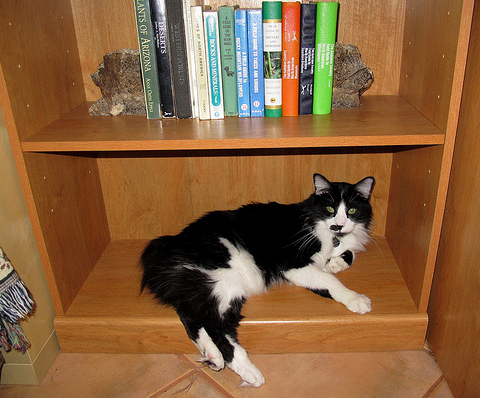 Luna:
Luna (AKA: Lu Lu, Balloona, Chubbers) is my chubby lover cat. She likes to lay all sprawled out on her belly and is at the food bowl at least every 5 minutes. XD She's got the most hilarious meow, it's more like a squeak or chirp. She's also got these cute white markings, a little spot on her neck and a patch on her lower belly. She's so huggable and loveable. <3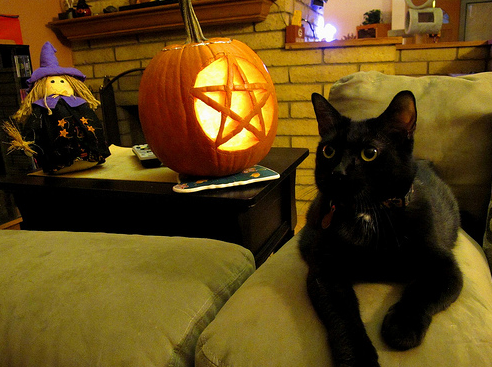 Westy's (Past) Kitties:
Scamper:
Scamper (AKA: Scamperdoodle) was my sassy/finicky/skittish girl. X3 She was always rather touchy and liked to bite you randomly, with or without provocation. XD But on the flip side she was cuddly, loved laundry baskets and absolutely loved my mom, lol. She was 7 years old when we had to put her to sleep (last December) due to Pancreatic cancer. It was just before Christmas, and the holiday will kinda forever be shadowed by her passing. She's dearly missed. :( RIP Scamper.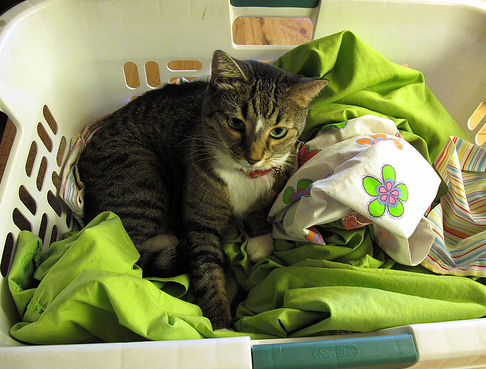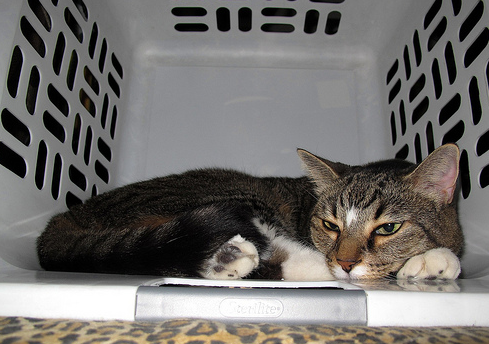 -This was the last picture we had of her before she passed on. ;_;
Halo:
Halo (AKA: Sinkkitty) was my most precious baby. Every time I think of her it's bittersweet. She was the sweetest, most loving girl and she was best known for greeting me every single morning, in the sink begging for the water to be turned on. She wasn't even 3 years old when she became very ill and we had to put her to sleep (at the time not knowing what was wrong with her). It turned out she had a tumor in her uretor and it was malignant so we did do the right thing. Her passing was the hardest thing for me (*trying not to get teary eyed writing this*). She was so young... She even had my dad sobbing. He never cries. It was heartbreaking but I know she's in a better place now. RIP sweet girl. My Halo. ;___;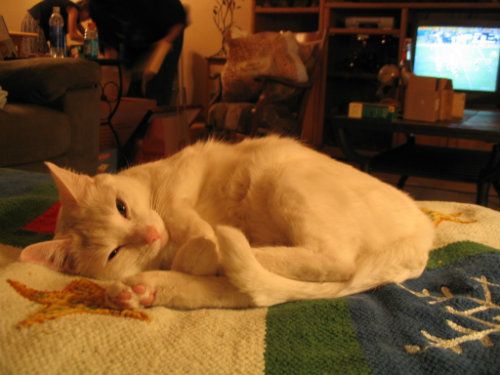 Butch & Sundance:
Although I don't have pics of them, these kitties (brother and sister) are the cats I grew up with. Sundance (AKA: Sunny) was a gorgeous calico kitty with an exotic look to her, especially in her face. She was very skittish and didn't much like me, but then again, I was little and was like The Terror to her. X3 She had to be put to sleep due to acute kidney failure at age 15. Butch (AKA: Butchy) was an awesome, very chill cat (a grey tabby). He put up with a lot of my childish manhandlings and was my snuggle buddy at night. <3 He lived to be 19 years old (even though around 15 he too started showing signs of chronic kidney failure, but he held on years after). His passing was hard, but he lived a good, long life and it was his time to go. RIP Butch and Sunny. <3
Westy's Other Critters:
I've owned many pets over my life and although I don't have pics of them all on hand, I just wanted to include them in this. :) There was
Sally
the tiger salamander,
Frita
and
Fud
the banded geckos,
Marge
the ferret,
Buddy
and
Nipper
the hamsters and more recently
Zuchini
my tomato frog (below) and his tank mate
Kamquat
the red eyed tree frog. I've always had animals in my life and I honestly don't think I could ever go without them. They have made such an impact on my life and I am so grateful to be able to experience the love and warmth in my heart that they all gave me. <3
Zuchini: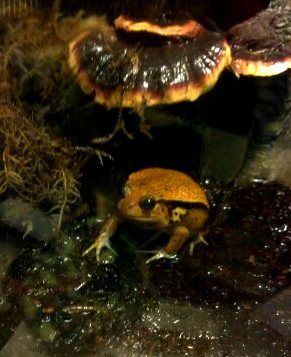 Sorry for this MASSIVE post guys, lol. I've had a TON of animals. X3 Now, who wants to share next!? :D