News & Updates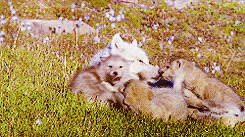 Spring Has Sprung!
Rivers swell with snowmelt, birdsong returns to a budding forest, blizzards give way to thunderstorms, and snacks cute baby animals are toddling after their mothers! Slowly but surely, spring is returning to eastern Canada -- and with it some new changes on the horizon for the adventurous soul...
End of Temporary Characters
As of March 1st all temporary characters have been decommissioned! If you haven't already made arrangements to pick up your temp as an auxiliary or have already dropped/NPCed them, these characters have been detitled.
Minor Rules and Guidelines Updates
In case you missed it, there is a small new rule Talents forum regarding bumping threads, which has been added to the forum intro.
The Character Appearance section of the RP Guide has been updated with a clarification regarding Optime "hair" color. Essentially, Optime manes should not drastically differ in color from your character's fur color -- e.g., if your character's fur on the top of their head is brown, the mane should be brown; whereas a pure white character cannot sprout black hair.
Spotlights for March 2017
Spotlight Soul
The Spotlight Soul for February is Lust (Shade)! Lust appears to be living a very colorful life! Known as a sensual woman, she certainly seems to be enjoying the company of her male pack mates. She is an interesting character with one or two particularly questionable relationships. Fun and games aside, Lust also finds time to help out her clan by building a brand new clinic and proves that she is an effective and valuable member. Where will her lifestyle take her next?
Community Soul
There is no Community Soul for this month.
Soldier of Love
This month's 'Souls Soldier of Love is once again Sylvey! We thank you and all the rest of our awesome voters for your dedication <3 You are awesome! <3