Late-Summer Beach Party!
| | |
| --- | --- |
| | WARNING: This event is part of a series. Choices you make now may impact your options later down the road regarding what aspects you can get involved with - including, but not limited to, negative events occuring to your character. |
The Event
The beginning of the year proved to be a tough one. Set upon by a group of belligerents hell-bent on vengeance, Sapient called for aide — a call that was abruptly answered by Krokar — and together, the allies dispatched of their enemies.
Now, after enjoying much peace and success, Sapient has invited Krokar to a late-summer beach party as an expression of gratitude and good-will! And who knows more about beach parties than water-loving Krokarans?! Let's get the fun started!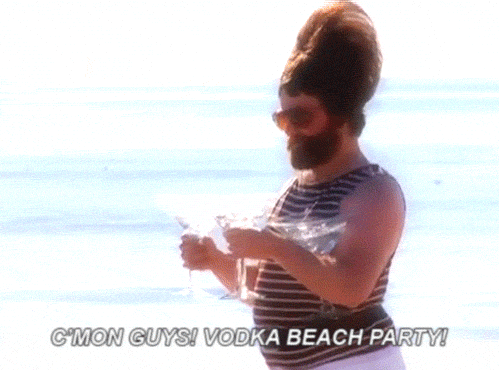 How To Get Involved
There are three fun ways to get involved with this event. Characters may be involved in as many or as few activities as you like but we strongly encourage interactions between allies. This will open up more opportunities to participate in later stages of the event. Furthermore, the more you are involved, the greater your options will be in the future. ;D
For the duration of this event, Krokans and Sapiens have free passage in each others packs.
Cook-out Fun
The festivities will kick off with a cook-out on the beach of Sapient's northern territory. Characters are expected to eat, drink, and make merry with their allies! This will be launched with a non-mandatory pack thread — posting at least once to this thread is favorable but not necessary. Side threads are encouraged!
Fishing Competition
Sapiens are still getting used to their new, expansive beach and could use some lessons in fishing! And what better way to learn than to hold a competition? Krokarans are encouraged to team up with a Sapien and spend time teaching their partner how to fish before signing up for the competition.
Winners will be chosen by a random generator.
Sink or Swim Contest
To Krokarans, summertime means preparing for their annual Celebration of Achievements and being in a different pack this year changes nothing! In order to help Sapiens learn how to build their own vessels, Krokarans are asked to team up with a Sapien and test your luck on foreign waters.
The fate of your vessel will be determined by a random generator.
Sign-up Form
Please reply here with the completed sign-up form if you'd like your character to be involved in the fun! Leadership will pair Sapiens with Krokarans.
Code: Select all


[b]Character name:[/b]
[b]Character pack:[/b]
[b]Fishing competition, Sink-or-Swim Contest, or both?:[/b]
Prizes!
We are offering permanent icons for winning teams of both the Fishing Competition and the Sink-or-Swim Contest. That means four icon prizes will be awarded: two for Sapiens and two for Krokarans!
In addition to the icons, we will also be holding a raffle for Kitty art. Artwork will reflect the amount of participation and effort put into this event. Please be respectful and patient when waiting for the completion of this prize.
Important Dates
The following dates are when things will occur IC'ly. Please note that group threads will be started earlier and forward dated!
2nd August: Plans for the event are announced to both packs. Sapiens and Krokans can now start partnering up IC'ly and get working on their vessel plans, along with practicing their fishing skills!
27th August: The Fishing Contest.
29th August: The Sink-or-Swim Contest.
30th August: Cook-out and beach party.
Additionally, on the 30th August, submissions for the raffle will be closed and the winner will be revealed!
Rules
Members may enter their character(s) in both the Fishing Competition and the Sink-or-Swim Contest but a player can only win once.

You must also make at least one post with a minimum of 200 words to be considered for a chance for your character to ICly win a contest.

To enter the Raffle:

Members must have signed up for one of the contests, have completed one relevant thread to the event, as well as make a post in their chosen contest thread to qualify.
Your raffle posts must all be a minimum of 200 words each, with your completed thread having a sum total of 1000 words or more.
When submitting your raffle entry, please clearly display the word counts per post in your submitted raffle thread.

To enter for a chance to win a Permanent Icon:

Members' posts in their submitted completed thread must meet a minimum of 200 words each, with your completed thread having a sum total of 1000 words or more.
Art Raffle Entry:
Code: Select all

[b]Character name:[/b]
[b]Contest entered:[/b]
[b]Completed Thread link:[/b]
[b]Contest Post link:[/b]
Contest Entry (for the Permanent Icon):
Code: Select all

[b]Character name:[/b]
[b]Contest entered:[/b]
[b]Completed Thread link:[/b]
FAQ
Can I enter the raffle more than once?

No. You may only make one entry.

Can I still enter to win one of the icons if I didn't sign up for the contest?

No, only those that signed-up are eligible to win one of the icons.

What if my partner doesn't post, and I can't make a completed thread for the contest(s)?

You may use a completed thread with another player (even if they didn't enter one of the contests!). These side threads, so long as they are related to the contest and meet the criteria, are acceptable :)