[330]
set after the RO with Saul and Teme!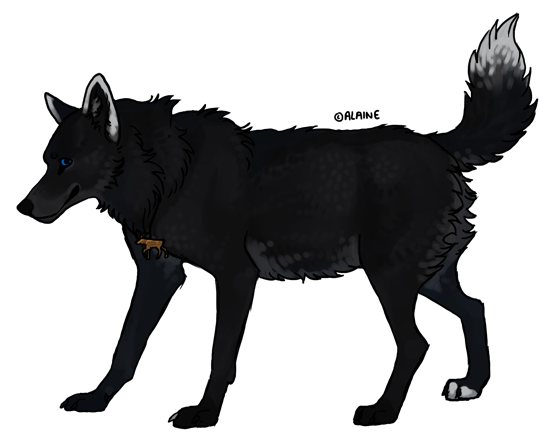 Teme Lupus is by Alaine!
Despite having asked his fathers advice, Temeraire was even more confused than before. Thoughts were rarely the jurisdiction of the dark male- he was more than happy to male a decision and stick to it. Of course, the decisions he was used to making weren't life changing ones and he was in a whirl. He didn't know how to deal with it, who to talk to or what to do. As he left his fathers house, he was deep in thought and he knew he needed to talk this over with someone other than his father or family. He was sure Bran might give him some good advice, but it wasn't the caramel male he wished to speak to. As soon as he considered it, his paws began to move with more purpose, blue eyes firm.

As he walked through Jordheim, the boy couldn't help but gaze around. Could he really give all this up? He loved his little humped home, his own space, the security it bought him. There was a 'but' though, lingering in his mind. And perhaps the little female would be able to help him. Luckily, she only lived next door to him and he was able to stop at his home to wash the remaining blood from his hands and mouth. While Lena couldn't see the blood, she'd be able to smell it and probably enquire as to where her meal was. Chuckling softly and trying to hide his nerves, he exited his own house.

Crossing the small expanse of open ground between his own house and hers, he wondered what he'd do if she wasn't in. Who else would he talk to? He supposed he could go with his original idea and seek out his Uncle Bran. But it was she who he wished to speak to. Approaching her door, he gave three hard raps on the wood. "Lennie? Are you in?" He called through the door, his voice softer than it usually was.