Ostara Spring Festival

Date:

April 15th, 2013.

Setting:

Vinátta Pack Lands, Jordheim Village

Time:

All afternoon

OOC Info:

This thread is not mandatory; posting is optional! There is no posting order; you may reply as often as you'd like, and spinoff threads are welcome as well.

Note the backdate

-- this event takes place before Saul's departure, for which there will be a separate announcement.

IC Info:

This event takes place over an afternoon, so you do not have to specify your character's arrival or departure. Your character is free to wander around Jordheim at their own pace, and if they would rather mingle and not participate in any events, that is fine. But! Each of the following pNPC prompts is worth 5 bonus game points, so it is recommended that you check them out! You can only complete one prompt per post, but you're free to post as many times as you like. :) Pack NPCs can be controlled by anyone, so don't be afraid to involve them! Your character can offer to help out, as well as simply taking part. And did you notice -- there is a new pack NPC to play with?? :D
700+ Happy Easter Sunday!! :)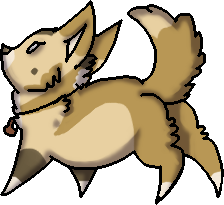 Chibi by Nat!
The transition from northern winter to spring had been a wet and rainy one. Ice melted and became mud, which then froze again each night the temperature dipped. Hardy growth combated the tumultuous weather, sending shoots of green to breathe life into the dull landscape. Spring had inevitably defeated winter, and was rooted in earnest now – there were buds and flowers dotting the hills of Jordheim, fresh leaves crowning the deciduous trees, and energy rejuvenating the land itself.
Snow would not fall again for a long while, Florina thought in passing as she strode purposefully through the village. Déjà vu lingered at the back of her thoughts as she inspected the preparations for this afternoon. She remembered this, and though her expression was neutral, her pace sped subtly up as she approached each new attraction. Now was a time of celebration – Ostara, honoring the new life and fertility returning to the land.
The wolves had made good use of their cold season, and it would bring them fortune in the days to come. From one full moon to the next, hunters had ranged out into the lands beyond their own, gathering bounty for the feast. The early kills had been smoked or prepared as rations. The fresh kills were roasting now, tantalizing smoke spiraling into the sky as a beacon to draw the hungry Vináttans.
Grit and Axle had used tools from Amherst to rig a tent for the food table (in case the capricious weather decided to rain after all), and a large spit, on which they rotated a rack of elk ribs. Not to be outdone, Jin and Joon had a merrily bubbling pot of lamb tail stew nearby, and the four males bandied insults about each others' cooking in true competitive spirit. A makeshift pen had been constructed to hold several lambs and the youngest goat, under the watchful eyes of the Starfa brothers, and there was a basket of wool yarn free for the taking.
The Sannindi paced with restless energy, flat silver eyes regarding the details of the humble festival. A dark cloud hung over Florina: even after enlisting the best hunters of not one but two packs combined, no clues to her cousin's fate had been unearthed. It plainly told her what she did not want to hear – that Sólieri was not captive nearby but had been taken far away, and there was no trail to follow. Still, she was distracted briefly from the slow burn of anger when she spotted something colorful nestled in a nearby bush.
The painted eggs had been hidden! Her tail wagged despite herself, flooded by the nostalgic memories of egg hunting from her own youth. Without a second thought, she dropped to her hands and knees and plunged her arm into the thicket. Florina shot a quick glance to the burly figure of Axle, the dog responsible for the game, and he flashed her an amused wink. She grumbled under her breath at getting caught, but when she stood, the bird's egg was clasped firmly in her hand -- unbroken this time, unlike last year. She was keeping this one, but the rest were for the Aeska.
Florina walked on, tossing her painted prize idly as she circled the hilly path. She had loved Ostara when she was young, and it pleased her to host the festival this year. It marked her first month as subleader, and while her packmates were still wary and suspicious of her motives, they would at least see that Florina had a deep respect for Vináttan rituals. They would have their holidays (because she liked them too). She was not the most social nor talkative soul, but she would make her presence known throughout the activities as an observer. She spotted the Godja setting up mineral paints and wooden eggs atop a grassy knoll, and inclined her head in acknowledgment. Finch sat quietly near Miskunn, sorting a pile of seeds into small packets to be passed out as favors.
Florina mused that she might have the patience to listen to the storytelling now that she was older. Maybe, although the food scents were quite tempting. Still too restless to settle, the tall wolfdog paced on, tossing the little egg from hand to hand to distract herself.