I am the shield that guards the realms of men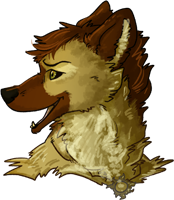 He stood on the white sands of Whisper Beach looking out along the water as the words played in his head over and over again. He'd thought it would be easier, but speeches had never been his strong suit and now the time was nearly upon them. He'd taken aside Jonas, Julien, Sylvie and Clara earlier in the afternoon to help him with the arrangements, and together they'd prepared the beach for the ceremony. He and the men had hauled logs onto the sands to create benches for the wolves of New Dawn and Casa di Cavalieri to sit on as they watched the proceedings. Meanwhile, Clara and Sylvie had set them with pelts to soften and decorate them affording the area a sort of rustic elegance that even the feral wolves might appreciate. In the aisle they'd lain a carpet of pelts which led up to an area where two posts had been driven deep into the sand and then coiled with strung flowers, marking the front where all was about to take place.
Alistair turned to look it all over, noting every detail in silence. Jonas, Julien, Sylvie, and Clara had left a while ago, cleaning up and preparing for the night's celebrations, while Alistair was already back, dressed in fine array. On his shoulders the black bear mantle of his cloak had been brushed to a shine. His short mane was a little more orderly than usual and on his chest was the crystal of fluorite and the wooden ring from his own union. His sword was belted around his hips and on his right his jeweled dagger had been thoroughly tended with the gems in it's hilt polished to a glittering shine. His tan colored pants had been washed and he wore his leathers. The armor was unnecessary but it suited the Lune and distinguished him from the rest of his pack, which was all he needed.
Sighing, he turned towards the two posts, lifted his head to the darkening sky and howled as loud and as clear as his doggish voice would allow- calling the Cavaliers and their soon-to-be allies to the beach, and the festivities that awaited them.
This thread is NON-Mandatory but all of Casa is OOCly assumed to be in attendance. This thread is dated for yesterday, June 1st. Post order is free. Alistair's post will mark the next round and the beginning of the ceremony. +3 points