| | |
| --- | --- |
| | WARNING: This thread contains material exceeding the general board rating of PG-13. It may contain very strong language, drug usage, graphic violence, or graphic sexual content. Reader discretion is advised. |
A Gift of Peace in All Good Faith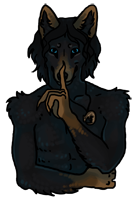 The little carved Ram had been sitting on his table for weeks now, he'd finished it ages ago and had just been putting off the delivery. The animal charm was supposed to be a peace offering, but he was too scared of the outcome to actually go and offer it. He wasn't a coward, he was not normally scared; put him in a fight and he was fine. A bar room brawl he could face. But going to offer a gift to someone that he knew didn't like him, that person being the daughter of his mate, that terrified him. He got this sick feeling in his gut everytime he thought about it. So he'd tried to stop thinking about it, he'd tried just casually patrolling out past Farina's den, but he always got turned around and the Ram went undelivered. Today was different. Today he was actually going to deliver it. He even had the smiling support from his mate, though she elected not to come with him, fearing her presence might make the meeting more awkward.

The Ram was warming in his paw as he walked steadfastly towards Farina's den. He worried that he'd also meet Florina there too, as far as he knew she was staying with her sister. He had brought the Boar with him too, just in case, but he was sure that having a double meeting would ruin his chances of being liked by either sister. He wasn't even sure that they would think of the charms favourably; the animals he had chosen for them weren't exactly becoming. He supposed he would just have to grin and bear it; he had arrived.

Breathing through his nose he took a deep breath and steeled himself before turning to the earthen den. He cleared his throat with a quiet cough and then called out, "Farina, it's Niernan. I was wondering if we could talk?" He turned the carved Ram in his fingers and tried to look confident even though he didn't feel it. All he wanted was familial harmony, and for the flowers to maybe like him just a little. It would be nice to be able to just see them without knowing that they hated him.
Lame, short starter. +369words