Puppy Naming Ceremony: Ausa VatniDate:
October 20, 2014.
Setting:
Vinátta Pack Lands,
Grand Lake
Time:
Noon
Info:
The first round is
only for leadership and participating family
. Second round is mandatory for everyone else, you have to post at least once or your character risks demotion. If your character has an IC reason not to attend, PM the VN account to let us know. Otherwise, all members (including NPCs and those on Absentee) are assumed to be present by the second round, and food and alcoholic beverages are available. Closing date will be Dec 1st.
+3
With pNPC
Miskunn
. Parents hop in next! (Played puppies don't have to post in Round 1 if they'd rather wait.) Assuming Colibri and the kids will arrive with Niernan ;)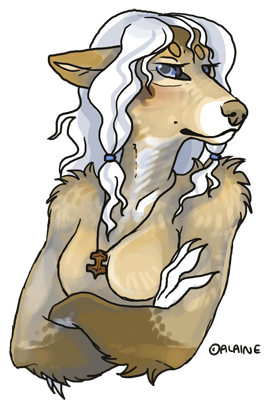 Autumn was in full blazing color at the lake's edge. Fallen leaves formed a thick carpet over the shores, and whenever the brisk wind picked up, flashes of red and gold were sent skidding over the water's glassy surface. The sun crept closer to high noon, though the pale light its rays offered did little to warm the chill air. The colder, darker months were upon the north, and it would be some time before their land would thaw again.
Florina was pleased by this. She reveled in the fall and winter, when her arctic coat grew in thick and pallid, and the hunting became plentiful. Vinátta had survived another season and had not crumbled. She was pleased by this as well, though there had never been any doubt that they were strong — stronger than ever under her. She left them all to their own devices throughout the summer, letting them adjust to her presence, and their families had grown. It was time to call them together as tradition dictated, and bless the puppies that had been born during her reign. They needed their pendants to forge a bond to this land.
The wolfdog sounded a powerful howl, her low alto voice ringing over the gentle slopes. The ceremony would be held outdoors since it was not yet too cold for the pups (and Florina thought it better to get them used to the elements anyway; she was fairly certain her Ausa Vatni had been around this time of year). The priestess Miskunn was nearby, hands folded in her habit sleeves, silver eyes inscrutable. It had been at the Godja's persistent urging that Florina finally agreed to summon the pack. The two-year-old was reluctant to deal with those who might still resent her, but it would behoove her to have a presence in the lives of the Aeska. She stood stiffly with the lake at her back -- the only movement in her rigid figure came from the wind tossing strands of her long mane -- and waited.
Despite the Sannindi's austere expression, it was not to be a solemn occasion. Oaken tables and seats had been dragged to the lawn with the assistance of Axle, Grit, Jin, and Joon, and though the quartet of friends would shoulder the patrols for the day, they had furnished refreshments for their packmates to enjoy in their stead. Game meat, fish, eggs, cheese, even some harvest vegetables had been arranged in baskets for the Vináttans to feast upon. Wine and ale would be distributed for the toast. They would celebrate their youngest generation together once the formalities were completed.