| | |
| --- | --- |
| | WARNING: This thread contains material exceeding the general board rating of PG-13. It may contain very strong language, drug usage, graphic violence, or graphic sexual content. Reader discretion is advised. |
[--]
I was going to use the MLP Teme art for this... but figured it wouldn't be appropriate! haha set for the 20th, evening time, optime form. <33 say goodbye to our babies innocence!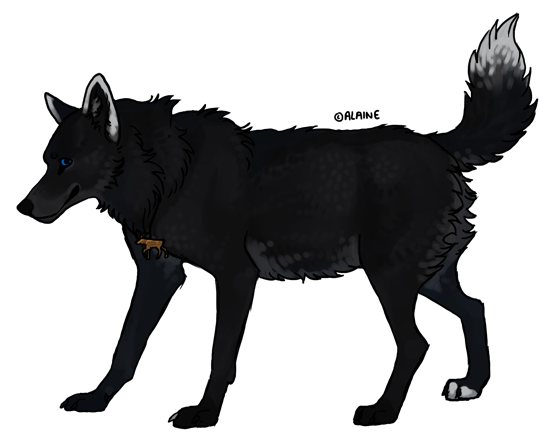 Teme Lupus is by Alaine!
Temeraire had woken this morning with the knowledge that he was officially a year old. A year ago today, he'd been born out in the wilderness somewhere to a mother who didn't want him. He'd come to terms with this fact a long time ago and he loved his father more for the fact that he'd raised him practically on his own. There was a sting of realisation that he wasn't spending his first birthday surrounded by his family, but he was comforted when he'd rolled over to spot Lena sleeping not far away. Slowly over the past week or so, their beds had shuffled closer so that the furs now touched, though neither of them had made the leap and actually climbed in with the other. Logically, however, the cold was seeping into the little wooden hut and the pair would be warmer curled around one another.

The male had spent the day as he usually did- tracking and hunting, gathering fire wood and generally teasing Lena whenever they came into contact. There was something on his mind however and no matter how hard he tried to push it away, it wouldn't move. He was old enough, he was sure of it and Lena rarely refused to do something when he asked her to. There was still a worry that this was stepping over boundaries, but he would never know unless he tried. So he'd waited until this evening, the fire crackling between them before his carefully laid plan set into motion.

You haven't given me a present, Lennie! He exclaimed, as if suddenly remembering the lack of gift. The truth of the matter was, he'd avoided the topic all day, so if she actually had a gift for him, his plan might crumble. Before she could correct him, he moved on. I know what I want for my birthday... He paused, blue eyes dancing with mischief and uncertainty. If this didn't work, he wouldn't be able to speak to her for weeks, but the curiosity to find out what it was, what it felt like was overwhelming. I want a kiss. He said softly, his tone dipping naturally as if revealing a secret wish. Blue eyes searched the girls face, trying to gauge her reaction and thoughts on his request.