[--]
Lena first pleeeeease <333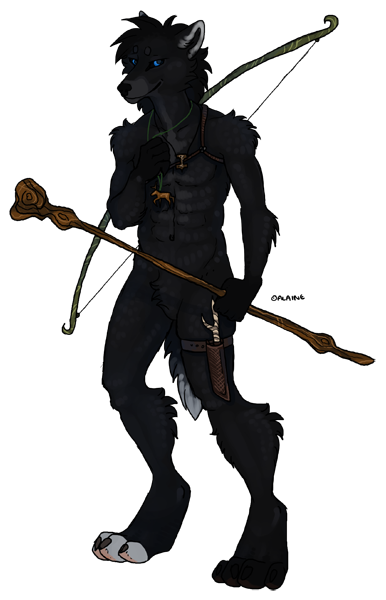 Teme Optime is by Alaine!
While the dark Stormbringer did not agree to this grudgingly, there was a sadness in him when they'd left the hut behind this morning. He'd come to see it as a place of shelter- they'd found a temporary home there when they'd moved from Hilsburn and it had once against provided them with a home when he and Lena had needed it. But it wasn't enough. Deep down, he knew this to be true. It was a cyclical existence and while he had Lena all to himself, he couldn't deny the loneliness. He'd been surrounded by a pack, or at least family, for his whole life and finding himself with just one companion had begun to wear away at him. He was a driven male and the simple existence was simply not challenging for him. Of course, he hadn't rolled over when Lena had asked him to move and he'd put up a small fight to let her know that he wasn't simply agreeing to avoid conflict.

Their teasing manner hadn't changed much since their sexual encounter, though he occasionally found himself looking at her from a distance. They were just friends- friends experimented and he was glad he'd been able to go through that experience with his friend. But he was sure that they were just that- friends. Their journey was quiet and gentle however- neither seemed in a hurry to get to where they were going and it was perhaps a reluctance to leave their freedom behind. However, the more he thought about it, the more excited the male became. While they'd left Vinátta to explore more of the peninsula, that didn't necessarily mean they couldn't join another pack.

As with their departure from Vinátta, the pair had little on them, only useful possessions that they could carry. Temeraire's bow was strung across his chest, his antler-handled knife in its place on his left thigh and his gnarled staff in his left hand, occasionally moving rubble or branches out of Lena's way. It was automatic and he didn't need to think about it. They were relatively quiet until the strengthening scents of pack came to a crescendo and they stopped. "I think these are the borders..." He offered, glancing across to make sure the blind girl stopped. "I'll call." He said simply, before lifting his head, a call sent up to those in the Court.