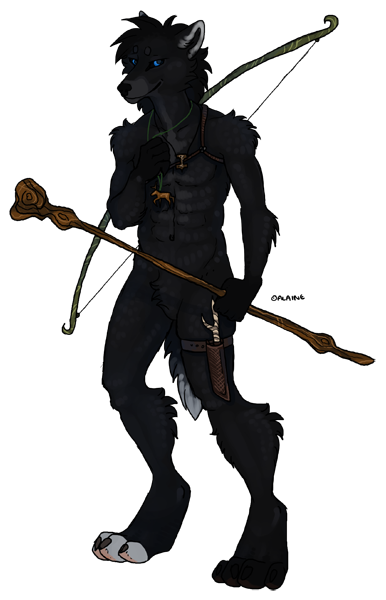 Teme Optime is by Alaine!
There was a satisfactory ache about the shadow prince's body as he moved through the Court lands. His nighttime activities had sufficiently released the static energy about the male and his gait was almost lazy as dawn splashed across the lands. It was peaceful and calm and the ache that had settled between his thighs the day before was no absent. It was inevitable that a self-satisfied smirk lifted the corner of the males mouth, a spring in his step where there had been tension before. It mattered very little to him that he couldn't remember her name, nor the damage he'd caused in his passion. The chill of the morning washed over the male but he appreciated it. He'd left the house yesterday morning as he usually did and hadn't returned until this morning- he was looking forward to a long nap in his own sleeping furs.

As if on cue, a wide yawn stretched his mouth and he ended it with a soft whine from the back of his mouth. With a sigh, the dark male took once more to the trees- they were sparser than Vinátta's endless forest but it was comforting to be able to climb up into the boughs and swing forward. Heading back towards the house he shared with Lena, a different kind of anticipation settled in his stomach. He always enjoyed coming home to her, even if they were just friends. The sun was just a little higher in the sky when the dark male dropped from the trees closest to their house. It was run down, as everything from the remnants of humanity was, but it was slowly becoming familiar.

He knew Lena wasn't as early a riser as his father at least and he thought he had an hour or two before she rose. She may not have noticed he was gone and in that case, he would slip into his bed and rise a few hours later refreshed. Slowly he moved forward, dark hands on the door. It always squeaked when it was moved and the boy hadn't yet figured out how to fix it. Wincing softly at the noise, he tried to open it as little as possible, squeezing his body in and shutting it as quietly as he could. His heart beat fast, white-rimmed ears flashing back and forward to see if he'd disturbed his house mate.