the story of the beast with those four dirty paws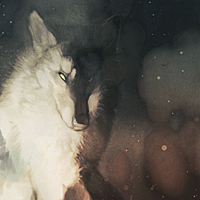 Adonis came staggering across the borders, fighting to keep upright through the pain as his hand pressed tight to his bloodied arm. The pale wolf bled from numerous minor lacerations, none of which requiring any immediate attention, but the one on his shoulder had already stained his soft fur a deep crimson and continued to drip rather profusely from between his shaking fingers. A strained breath whistled through his clenched teeth and he stopped to lean against a tree, cursing his stupidity with each exhale. The moose mother had done a serious number on his ribs, too, and Adonis was almost certain he suffered from at least one fractured rib.
He put his back against the trunk and slid down until his rump hit the ground. A rustle of wings and a small billow of wind against his face heralded the arrival of Seer, who landed on the snow beside him. The white raven began to rattle off gentle noises of concern, and Adonis didn't bother batting him away when he plucked at his tail; either it was a way of showing comfort, or he was berating him for sitting down. Didn't matter, really. He just concentrated on breathing in and out for a few long moments until he gathered up the courage to look at his wound.
It was a clean cut, but beneath the gristle and blood was the pure, pale white of bone shining like a keen grin back at him. Adonis' stomach rolled and he pressed his hand down hide the sight of it. He was sure he looked an absolute fright, but that did not stop him from raising his voice to the sky in a summons for a healer.
Hope this works for you! If not, I can change it. Wound description: 6 inch long cut across his bicep down to the bone. Other injuries include severe bruising around his ribs, swelling of his face, and a lot of minor cuts. +200 words