[--]
backdated for the 30th <33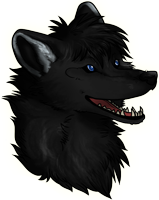 Teme Art by Kiri!
Pain seared up his leg and the shadowy male cursed his rotten luck for the hundredth time that day. It had taken him twice as long to return from his trip north than it had to get there, although in a rather stunted way. He'd managed to make it as far as the Dampwoods on the first day of travel, where he'd been ensnared by that devils temptress. He'd been a willing victim of course and he'd taken particular joy in it, until the raging bull of a mate had interrupted their little tryst. He would have liked to have said that, had he known she'd been spoken for he wouldn't have done it, but he would certainly have been lying to himself. He wouldn't have cared very much either way, not with her smelling quite so delicious. But the gash across his leg and the bruising that accompanied the barely-escaped blow was beginning to grow hot and itchy. He'd washed it regularly, but there was a tightness about it that was sickly sweet and repulsive at the same time.

Helexia had been particularly keen to keep her distance and his travelling companion had decided that she would rather get to where she was going than hang around. Still, even with her insistence that they keep moving, it have taken five days to crawl around the belly of Nova Scotia. By the time the landscape began to get familiar, he was about read to curl up and sleep for a long time. Somewhere deep down, he'd forgotten about his last conversation with Lena and there was excitement in his veins. He had a horse to think of now however and he'd moved dog-tired towards the stables. Leaving the filly had been hard, especially when she had no idea where she was or who these strange horses were. But he needed to go home and rest, maybe get his leg seen to.

The familiar broken-down house almost bought a tear to the youths eyes and he anticipated a warm welcome. Perhaps he was being optimistic and as he approached, he was forcefully reminded of their parting conversation. Guilt rose up like gorge in his mouth and he swallowed it quickly. Pushing into the house, he gave a soft sigh as the familiar scents washed over him. Lennie? Are you home? His voice held such hope that she was here, a much smaller voice than she was perhaps used to. With a groan of tiredness and perhaps illness, he moved towards the living area, hoping to build a fire to warm his bones.