[412]
set for today ish (i dont mind either way) and set out on Shimmer Beach. deal with the major PP loveee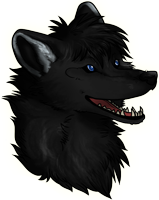 Art by Kiri
Despite the dark and looming clouds out to sea that promised a thunderstorm this afternoon, the warm humidity and the bright sunshine that washed over the Court this morning had spurred Tem on to make the most of the day. There was so much of the territory he'd yet to explore, but he'd found a place he wanted to show Lena. It had dampened his mood slightly when he'd realised that she couldn't see the beauty of the beach, the twinkling of the gems in the sand. It would be beautiful with the sun splashing against the waves making that twinkle as well. He knew she couldn't see it, but he would take her there and describe it to her, in detail. Keeping his motives to himself and answering her questions with one a small chuckle or cryptic 'you'll see', he gathered together various items that would make their trip to the beach more comfortable.
When he was ready, he eagerly tugged Lena from the house, a blanket tucked under one arm and his backpack full of dried meat and berries that he'd found around the house. He was sure they were safe, or else Lena probably would have told him when he picked them. He knew she couldn't see, but he'd learnt fairly quickly that her other senses made up for it and he was fairly certain she knew what they were doing. They walked in companionable quiet, his usual nuance of helping her over the various obstacle in their path. Feeling more at ease and calm with himself than he had in a while, Tem couldn't help but keep at least one part of himself touching her; a hand on her elbow or arm or small of her back, the warmth he felt through his fingers causing an easy smile on his lips.
As the salty sea air hit his nose he felt an irresistible grin tug at his lips. I wish you could see this place Lennie, its glittering. He murmured as he released her for a moment. Stepping back he unfurled the blanket with a flourish, laying it down on the ground and pushing it with his paws so that the tugging wind didn't blow it away. Come and sit down, we can have a picnic. He grinned, reaching across to try and capture her hand and tug her down so that he could lay back in her lap and describe the scene to her as he wished.