[html]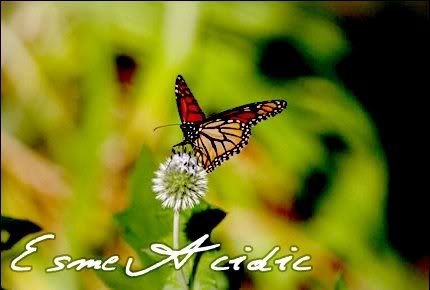 Character Name: Esme Acidic
Character Birthdate (including year): January 1, 2008 (Shes almost three months)
Whether s/he is a regular wolf or a Luperci: Luperci
Your e-mail: ilurichard@yahoo.com
A secondary form of contact (AIM, MSN, Y!M): YIM: ilurichard
How did you learn/hear about 'Souls?: I used to run around here a bit when it was on EZboard, but I had to quit because I couldn't keep up with my classes. My brother reintroduced me to the site now that it's moved. Forgive me, because I might be rusty! Esme is entering from the North part of Jaded Shadows.



She was not sure how long she had wandered for...it felt like years. Esme had been on her feet day and night for the last couple of days, too afraid to stop and rest, wanting to get farther and farther. She needed to find her mothers and her sister, that was true, but now that goal was seeming less and less real. What was real now was the fact that she was practically starving to death. Esme had only just started to eat raw food all by herself, but all of that food had been brought to her by Diana and Wednesday.

She wondered where her sister was. She could live without her parents if she really, really had to...but she missed her sister more than anything else in the entire world. Her sister looked a lot like her, white with red eyes, but there was one thing that set Orion apart--three black spots on her back. Orion was much healthier than Esme, too, and could hear a lot better. Sometimes Esme had troubles with her hearing.

A few days earlier she had fallen asleep on the island, on that huge, thick piece of tree bark. It had taken what felt like an eternity for her to get to land again, and when she had landed she had found that she did not know any of the surroundings. They were strange. Ever since then she had been searching for her mothers and sister. She was sure that they were looking for her, too, and it hurt to think about what they were doing right now.

Her sanguineous eyes took in the place around her, the beginnings of a forest. There were new smells here, ones that scared her a little. She'd never been around anyone other than her mothers and her sister, and wasn't sure what she should do. The scruffy young puppy halted when the smells became overpowering, tilting her head to peer around a few of the trees. She was so tiny, and this place was so huge! She didn't know what to do now. She and her parents and sister had always roamed wherever they pleased...they had not had to answer to any alpha or beta.

In her days a-sea she had become sunburnt because of the sun. She was albino, and her fur was very thin for a pup of her age. It was just her luck that warmth had been radiating up from the ocean around her...that had saved her. But the sun had burnt her sensitive skin. Beneath her fur, she was a nice shade of pink. She whimpered as she sat down, her skin stretching uncomfortably. Her pawpads were cracked a little...she wasn't very hydrated, so they weren't soft like they usually were, and they had developed cracks during her long travels to Jaded Shadows.




[/html]