[319]
10.06.2012 . 10am . commune of the salmon . lupus form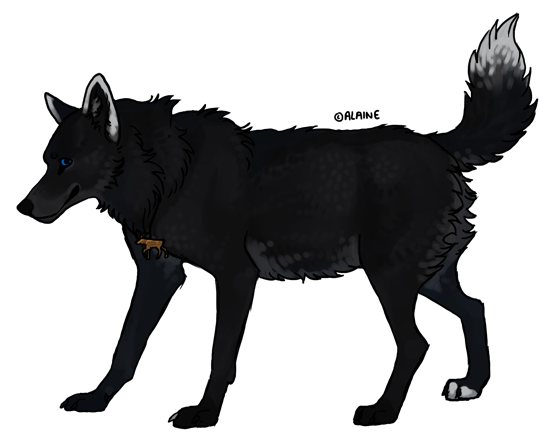 Temeraire Lupus is by Alaine!
Excitement didn't quite cover the feelings in Teme at the moment. He and Eli had wanted to explore a bit further into the Commune of the Salmon but knew it wouldn't be possible without an adult with them. The land might be in their territory, but Temeraire understood that there were those who held no respect for others lands and would wander into Vinátta and hurt them. It was a far fetched idea, but his father had told him often to be careful until he was able to shift and defend himself properly. Logically this made sense to the boy, but there were more than a few times where what his father said to him just sounded too much and he didn't believe half of it. He'd asked Eli, who had been excited about it.

Perhaps that was the reason Ezra was going to be accompanying them today. The hulking secui husky had never intimidated Temeraire... or he had when Teme had first arrived in Hilsburn. But now, the boy understood the older male a little more and looked up to him as one of the family. He understood he wasn't blood related, but that mattered very little to him. Of course, the newcomes that Temeraire did not know were a little confusing to him and he didn't really know how to treat them. He wouldn't concern himself with that though- they had some exploring to do.

Exiting his house, it took him only a few moments to weave through the humps of other houses before he reached the sprawling mass that was Ezra and Eli's house. With a grin, Temeraire scratched at the door until it opened and walked in. The boys were close enough that doors didn't mean anything and they'd been entering each others houses since they'd plucked up the courage. With a grin, Teme looked around, before calling out Eli? Ez? Are you ready?.