24 hours left of SoSuWriMo! Make it count! :D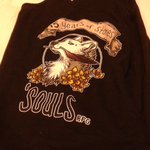 Salena_Kingston My shirt finally came in. Showing off my 'Souls pride. Here's to more years of creating stories <3. pic.twitter.com/cBmLXxFvjZ
SoSuWriMo Winner's Circle is up! soulsrpg.com/forum/viewtopi… Finished already? Collect your prizes! Not done yet? You've still got a week!!
Updated our antispam field for profiles/registration. If you are having trouble w/ your forum profile, please remember to update this field!
Did you know that the chat is open to guests again? chat.soulsrpg.com ;) Why not jump on in?